J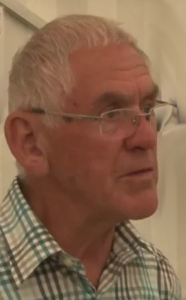 ack Kaighin took us on a wide-ranging tour of Laxey that started with an image of the harbour area and bridge with a fair going on and took us right up to the foot of Snaefell and the mines – the unfortunate scene of a great disaster in 1897. Jack has a great collection of images, from early painted glass slides to modern photographs, and he used these to show the development of Laxey over the years.
Laxey became an important industrial centre, with its mines supplying the greatest amount of zinc of anywhere in the British Isles. The mines employed many people, and had a huge impact on the village and surrounding area. Those engaged in mining also became involved in other industries, with Captain Richard Rowe responsible for the development of the flour mill in Laxey. With so many streams running through the area, water power drove many processes and, ironically, was the means of pumping water from the mine-workings.
Even whilst mining was at its peak, tourism began to develop in Laxey, and from 1854 the Laxey Wheel, the Lady Isabella, became a tourist attraction in its own right. Jack showed us the work of the Williamson family, making Laxey Glen Gardens into a popular resort. The arrival of the trams and the success of the Snaefell Mountain Railway were amongst the tourist facilities which gave Laxey a boost as the mining started to diminish.
The Williamsons had been involved in bakeries, the trade that brought Jack himself to Laxey. His bakery was getting through 1.5 tonnes per week of Manx Queen flour from Laxey Flour Mills and his van served customers from the Whitebridge Hill in Onchan to Slieau Lewaigue in Maughold.
Jack is a fount of knowledge about the buildings and other developments he was able to illustrate with his images, and his personal reminiscences only added to what was a very interesting presentation, for which we were very grateful.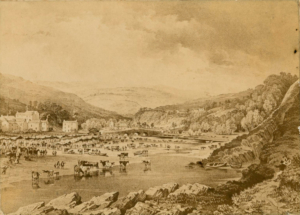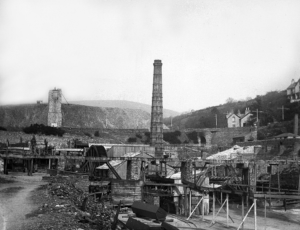 Laxey bridge and fair                                            The washing floors