COHAGLYM CELTIAGH EDDYR-ASHOONAGH : INTERNATIONAL CELTIC CONGRESS 2023
Eaghtyrane Eddyr-Ashoonagh, Aine Ni Fhiannusa, has supplied a report about the ICC in Waterford this year. Read it by clicking here.
COOISH 2023
This year's Cooish Manx language festival will be held with 21 events throughout the Island from 1st to 5th November. The programme will be available here as soon as it's released!
EMVOD AR GELTED AN ORIENT : FESTIVAL INTERCELTIQUE DE LORIENT 2023
Isla Callister's 'Creeaght' was just one part of the package that represented the Island in Lorient this year, with music, dance, song, poetry and art. Skeddan Jiarg,  Ruby Biscoe-Taylor, Mec Lir, Boghynid and Ruth Keggin were just some of those taking part. Illustrations by Prof Jo Davies for 'Creeaght' formed part of the art exhibition with other work by her, one of which was chosen to feature in advertising the exhibition and on the front cover of the accompanying brochure.
YN CHRUINNAGHT CELTIC GATHERING 2023
Late July saw another excellent week of interCeltic music and dance with Glasgow-based Scottish-Irish-Manx-English band TRIP; Manx band Clash Vooar; Karine Polwart & Dave Milligan from Scotland; the wonderful Manx harper, Mera Royle with Daniel Quayle & Elizabeth Davidson-Blythe and ; Cat's Claw Twmpath Band from Wales; Cornish music and dance with Morvrann; a Manx-Scottish mix with Ruth Keggin & Rachel Hair; and iconic Irish band Dervish, plus a wealth of fine performances by Tree ny Kiare; The Skimmees; Susan Coyne & Mary Molloy; Ellan Vannin Pipes & Drums; Evel Wonder; Peddyr Cubberley & Tiffany Kerruish; Skeddan Jiarg; Perree Bane as Perree Bane Aeg; Scoill Daunse Yernagh Vannin; Mine's a Shanty; Rachel Clarkson; Aalin Clague & Un Choraa; Annie Kissack & Caarjyn Cooidjagh; Lockdown Lovelies; Arabella Ayen; Mark Lawrence; Manx Bard Michael Manning; Share na Veg; and Resa Brown, with lots of opportunities to sing and to dance, as well as an excellent presentation by Katie King of Manx National Heritage about 100 years of the Manx Museum.
MANANAN FESTIVAL 2023
This year's Mananan Festival at the Erin Arts Centre in Port Erin included a presentation of Isla Callister's 'Creeaght', with music, words and images celebrating women who have had an impact on the Island, its culture and history. It was commissioned by Culture Vannin and had its premiere at Yn Chruinnaght last year. The festival also presented the Rant Fiddle Quartet, bringing together Bethany Reid from Shetland, Anna Massie and Lauren MacColl from the Highland peninsula of the Black Isle, and  Gillian Frame from Arran.
CURRIT SHAGHEY – POSTPONED  : SATURDAY 6th MAY
Owing to technical difficulties, our scheduled presentation by Dr Fenella Bazin could not go ahead as planned on Saturday afternoon, 6th May. We will slot it into our forthcoming schedule, so watch this space!
TAISHBYNYS – EEANLEE ER Y CHALLOO : PRESENTATION – BIRDLIFE ON THE CALF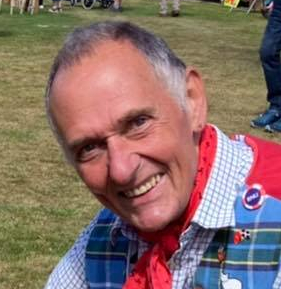 Dessie Robinson is a great raconteur, with many stories arising from his presentation of images and his experience on and around the Calf of Man, and particularly its birdlife.
Gura mie mooar ec Dessie for a very entertaining afternoon on Saturday 1st April.
Read a little more about it here.
Yn Olloo Angela Little – Professor Angela Little
Professor Angela Littlegave a comprehensive presentation on Three and a half centuries of 'Education for All' in Peel , describing the relationship through Philip Christian with the Worshipful Guild of Clothworkers which has been such a feature. However, it has not been the whole story, as Professor Little explained. You can read a little more about it by clicking here.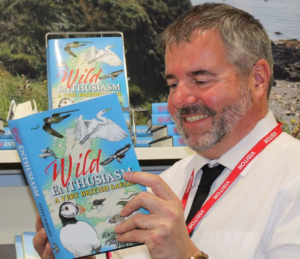 Steve Wright and his presentation on Manx Wildlife.  
Steve has recently had his book, Wild Enthusiasm : A Very British Safari, published by Merle Unwin, about his wildlife travels round the British Isles, including a chapter about the Island.
Steve's enthusiasm is evident and was infectious as he focused on Manx wildlife – quite literally, with some of his own footage as a filmaker.
You can read more about it by clicking here.
Our first presentation on 14th January was –
Sooill y Joarree : The Stranger's Eye on Mann – The 1795 paintings of John 'Warwick' Smith.
You can read something about it by clicking here.
Chloe Woolley, yn Greinneyder Kiaullee (the Manx Music Development Officer) to Culture Vannin produces an excellent monthly overview with copious illustrations of what's happening in the Island's music and dance scene, together with interesting pieces of research and a transcription of a tune. To read the latest edition of Kiaull Manninagh Jiu, click here.
International Celtic Congress Facebook Page
Len Sheppard, the Vice-Chair of the Cornish branch, prepares a Facebook page for the International Celtic Congress (click here) as well as the Cornish branch newsletters to promote the Congress and work of the various branches to a wider international audience. He asks for material for inclusion to be sent to him at associationcornishheritage@gmail.com.

The latest newsletter of the Cornish Branch can be read by clicking here.

Nyn Mwooise da Margaret Patricia Crellin – Our thanks to Margaret Patricia Crellin 
The Manx Branch of the Celtic Congress received a generous bequest from Margaret Patricia Crellin, who passed away in Noble's Hospital in January 2021 at the age of 91. She was sister to George Crellin of Fiddlers Green, Andreas and a relative of the late John Crellin of Close-e-Kee.  Margaret spent some years in Australia but always loved things Manx. She learned the Manx language by getting sets of tapes sent out to her. In addition to her bequest to the Celtic Congress, she also made one to Yn Cheshaght Ghailckagh, with which John Crellin was, of course, so closely associated for many years.[/fusion_text]
Failt erriu gys Banglane Manninagh y Chohaglym Celtiagh
Welcome to the Manx Branch of the Celtic Congress
Eaghtyrane: Brian Kerwin
Lhiass Eaghtyrane: Stewart Bennett
Patroonyn: Clare Christian OBE; Hazel Hannan
Screeudeyr Onn: Bob Carswell
Tashteyder Onn: Bob Carswell
The International Celtic Congress is held annually to perpetuate the culture, ideals, and languages of the Celtic peoples, and to maintain an intellectual contact and close cooperation between the respective Celtic communities.
The Celtic Congress was founded in 1917, though its antecedents go back some years before that, in order to promote the knowlege, use, and appreciation of the languages and cultures of the six Celtic countries. National Branches of the Congress meet in an International Congress each year in order to help further these aims.