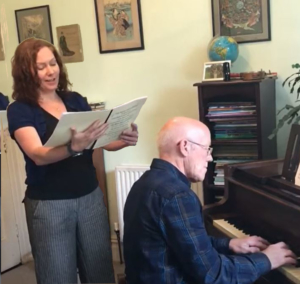 The Mona Melodies is a collection of ten songs and three tunes – the first time that music from the Isle of Man ever appears in print.
To celebrate the bicentenary of the publication of The Mona Melodies, Yn Chruinnaght's Celtic Gathering included a presentation on its background by Robard y Carsalagh which can be viewed by clicking here.
Cleveland Medallist Mandy Griffin and pianist Frank Woolley were recorded performing all the pieces from The Mona Melodies and they can be seen by clicking the links below.
01 Brown William : https://youtu.be/9Qz390pKk30
02 Molly Charrane : https://youtu.be/E_drKoKEU3c
03 False Isabel : https://youtu.be/h9aMUvZzirg
04 The Storm is Up : https://youtu.be/G23AuYQCeLI
05 The Praise of Wine : https://youtu.be/MAQm19BdtAo
06 Berry Dowin : https://youtu.be/NFstjRV_yBg
07 My Hen Whoomey Vien : https://youtu.be/rrzB5WJeTMU
08 O Sheign Doin : https://youtu.be/-AUf8McQ4vw
09 Ne Kirree fo'n Sniaghtey : https://youtu.be/N0g23kOwvHw
10 Ma Graigh Nagh Nare Doin Farraghten : https://youtu.be/x4CCEU1t-TQ
11 Hunt the Wren : https://youtu.be/NSPvyOJOPNs
12 Tapsagyn Jeargey : https://youtu.be/KodINhSDH1c
13 Wandescope : https://youtu.be/-8mc9MAEf6c