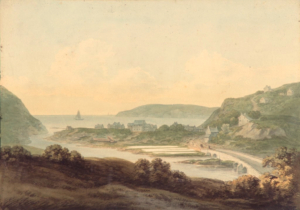 There was a good turnout for our first meeting of 2023 which focussed on the Island as it appeared to the artist, John 'Warwick' Smith, in the 1790s.
In 1950, the Director of the Manx Museum, Basil Megaw, visited Blair Atholl, the seat of the Dukes of Atholl in Perthshire. As well as views of Perthshire by John 'Warwick' Smith, Basil Megaw noticed that there was a series of painting of scenes of the Isle of Man. These had been commissioned by John Murray, the 4th Duke of Atholl, in 1786 but are not thought to have been executed until about 1795.
The 26 paintings were shown in a way which took us on a tour, starting in Kirk Patrick, lingering a little in Peel, then going northwards to Bishopscourt and the Forester's Lodge, before going down the east coast from Ramsey to Laxey and Douglas, Newtown in Santon, Port St Mary and then across to Port Erin, before admiring a view of the Calf. Finally, we returned to St John's for two views of the Tynwald Ceremony.
On the way we heard something of the background of the artist, John 'Warwick' Smith, and were able to delve into the history associated with the views he produced.