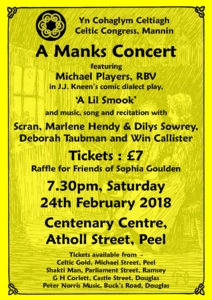 Moylley as soylley dauesyn ooilley ren ayrn y ghoaill 'sy Chuirrey Kiaullee Manninagh!  Congratulations to all those who took part in the Manks Concert! The evening was a great success, thanks to the talented artists who performed music, song and the spoken word.
The night's entertainment was off to a beautiful, harmonious start with the voices of Marlene Hendy and Dilys Sowrey, singing in Manx and English and performing traditional songs and also Marlene's own 'The Iron Way'.
Deborah Taubman is a winner of the Guild's Kissack Trophy for Manx dialect recitation, and was also well-qualified to give pieces from T E Brown's 'Betsy Lee' about agriculture, having first-hand experience herself as the wife of a dairy farmer.
The first half came to a close with the performance by Scran, young musicians who have come through the ranks of Culture Vannin's monthly Bree sessions, promoting Manx music, song, dance and other art forms. The band played medleys of traditional and newly-composed pieces ranging from the quiet and moving to the spirited and up-beat. Harp player Mera Royle was one of four nominees for the BBC Radio 2 Young Folk Award, and went on to receive that accolade at a special ceremony in Belfast in April, so moylley as soyllee jee.
The second half opened with a seasonal piece by Kathleen Faragher about daffodils, performed by Win Callister, who has also received accolades for her performances, and, as a long-serving member of Michael Players, took part in the ceremony in January 2017 when Michael Players were recognized as the Reih Bleeaney Vanannan, the Island's highest cultural award.
Then it was, indeed, the turn of the Michael Players, RBV. Chrissie Cannell, Becky Traynor, Simon Clarke and John Kaighen drew chuckles from the audience with their performance of J J Kneen's comedy, 'A Lil Smook'.
Special mention should be made of the raffle, organized by Friends of Sophia Goulden to raise money for a memorial to the woman from Lonan who was the mother of leading suffragist, Emmeline Pankhurst. The raffle was announced by Clare Christian, OBE, who is a patron of the Manx Branch of the Celtic Congress.
A good night was had by all! Thanks to Sandra Caley for taking on the organizing following the sad loss of Roy Kennaugh, whose outstanding work in supporting and promoting the unique culture of the Isle of Man was remembered throughout the evening.