Taishbynys James Franklin – A Presentation by James Franklin
Manx Dialect Plays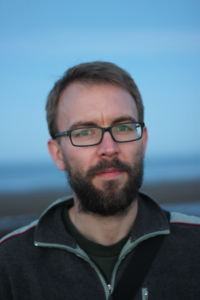 The Guild Room was packed for the presentation by James Franklin of Culture Vannin about Manx Dialect Plays. The audience was treated to a very interesting, entertaining and well-illustrated explanation and analysis of the inspiration and development of Manx dialect theatre.
Even before James Franklin came to Culture Vannin in his post as Online and Educational Resource Officer, he had worked with Culture Vannin in setting up the excellent manxliterature.com website. This is a treasure trove of the Island's poetry and prose. In recent years, through the Michael Players RBV, James has had the opportunity to include hitherto unpublished Manx dialect plays from their archives.
James took us back to the essential figure behind Manx dialect plays, Sophia Morrison. The essential feature was not the dramatic element, but an exploration of Manxness. For the first production, Sophia Morrison encouraged her friend, the poet Josephine Kermode (Cushag) to write 'Rosy Basins, or, Them Oul' Times', and worked with a group who eventually adopted the name of the Peel Players for their productions. Morrison's guiding hand in the background can also be seen in providing the synopsis of a play to be fleshed out by Christopher Shimmin. Her work in providing for the sets also gave productions added status. The Peel Players performed at the Albert Hall and the Centenary Hall in Peel, and plays were even staged in the Gaiety Theatre in Douglas. The success of the Peel Players encouraged groups to be set up in other parts of the Island
The untimely death of Sophia Morrison in 1917 did not halt the enthusiasm for the concept she had developed. Nor, as James showed, was it only an Island phenomenon, with plays written particularly by J J Kneen to be first performed  for the London Manx Society, and Eva Kneen, with her sister Lilian, writing plays for the Wirral Manx Society.
The audience thoroughly enjoyed James Franklin's fascinating explanation and analysis of how Manx dialect plays came to be such an important cultural expression. The depth of James' work in bringing together the body of work with so much background information and illustration was obvious to all. The Manx Branch of the Celtic Congress is extremely grateful to James for giving his excellent presentation about them.
Gura mie mooar dasyn!